Accommodation
Prices are valid from September 2023 to May 2024
Image
EMBRACE HOTEL
Address: Pardi 30, Pärnu
Embrace Hotel is located in a peaceful beachside area, surrounded by private houses and greenery. It's a 5-minute walk from our place to the beach, and the nearest shop is 700 meters away. The hotel area is fenced, and parking spaces are within the view of security cameras, in a closed area. On the hotel premises, there is also a barbecue corner, as well as the possibility to do laundry and prepare meals. The hotel is smoke-free and pet-free. Free WiFi is available throughout the entire hotel. All rooms are equipped with bedding, towels, toiletries, and other essentials. Cleaning (trash, bedding, etc.) is done once a week, and it's included in the price. All rooms have a shower room and a toilet. Twin, triple rooms, and apartments for up to five people are available.
PRICE LIST
September 1st May 31st
Double room: €350
Triple room: €300
Utility costs are included in the price.
Information and Booking:
info@embrace.ee
www.embrace.ee
+372 5887 3404
---
Image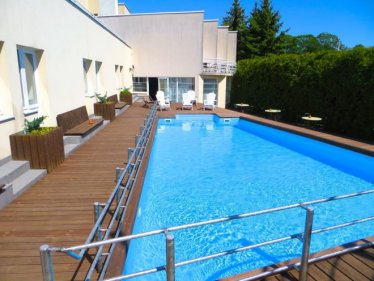 HOTEL VESIROOS
Address: Esplanaadi 42A, Pärnu 
Hotel Vesiroos is located in quiet region of villas, our hotel is about 5 minute walk from school. We offer only single rooms, in rooms we have TV, bed (size 90x200), desk, chair, private bathroom and closet and WI-FI (it is free and is in every room and public area. In our rooms we do not offer bed lining or towels, every student have to take their own. Our kitchen is public for all the students, in the kitchen You can find everything what is needed to make food. Hotel homepage is www.hotellvesiroos.com or You can find Pictures in booking.com as Hotel Vesiroos
PRICE
For all the students who are staying September–May is the price 399€, this is the final price, no extra taxes. Same price is for students who are staying half year (September till end of December/January or January till the end of May). VAT is included. No additional charges.
We also offer apartment 1th of September 2023 until 31th May 2024
One-bedroom apartment. In the apartment, You will have everything for long-term living. There will be a king-size bed + two sofa beds, all equipment You will need in the kitchen and private bathroom, washing machine, TV, Free wifi. This apartment is next to Hotel Vesiroos, near the school.
Our price would be 399€+utility costs.
A reservation can be accepted based on the availability of rooms. Reservations can be made via e-mail meritelhotels@gmail.com.
Additional information and reservations:
You can make reservations through our e-mail address: meritelhotels@gmail.com
www.hotellvesiroos.com
---
Image
Bob W 10 STUDIO APARTMENTS
Address: Esplanaadi 10, Pärnu
The apartments provide everything necessary for work, leisure, and entertainment. You have access to a fully-equipped kitchen, fast WiFi, 24/7 guest support, regular professional cleaning service, and extras like Smart TV, retro gaming console, and a polaroid camera. The apartments feature a double bed and are suitable for a single person or a couple.
PRICE LIST
September 1st – May 31st €500/ month
Price includes all utility bills (including WiFi, TV), access to the gym, monthly apartment cleaning.
Booking Conditions
Maximum rental period: September 1st - May 31st
Minimum rental period: 3 months
Initial payment: 1-month rent + 1-month rent as a deposit (refundable later)
Cancellation with 30 days notice
Invoice available for companies (VAT included)
Information and Booking:
Marjaliisa Mango
marjaliisa@bobw.co
+372 5690 0100
---
Image
KARJA ACCOMMODATION
Address: Karja 83, Pärnu
A light, renovated 87 m²  2 bedroom apartment up to 5 people in the centre of Pärnu on the ground floor of a stone house built in 1883.
The apartment is within 2,5 km Pärnu College. The apartment consists of a living room, 2 bedrooms, open kitchen, bathroom+WC. TV. Washing machine. Air conditioner and el. radiators. Furnace. Kitchen: electric stove, cooking oven, refrigerator, microwave oven, coffee machine, water boiler, toaster, dishes, dining table. Bathroom/ shower: shower, toilet, washing machine, hair dryer. The house has its own large closed garden and a sunny terrace. Parking for 2 cars (closed yard, free).
PRICES
Price: one bed 10 €/night.
Additional information and reservations:
Inge Joekallas
ingejogis@gmail.com
+372 516 6329
---
Image
HOTEL TAMMSAARE
Address: Tammsaare 24-B, Pärnu
 
Hotel Tammsaare is located in Pärnu on a beautiful beach alley. The sandy beach and the beach promenade are located 250m from the hotel and the walk to the city center takes about 10 minutes.The reception and the cozy lobby-bar are open 24 hours a day. It is a budget-friendly stop for any guest who appreciates comfort and great location. Breakfast is included in the price.
PRICES
Single room for one night: 39 €
Double room for one night: 45 €
Additional information and reservations:
www.hotelltammsaare.ee
info@hotelltammsaare.ee
+372 5562 2818
---
Image
SADAMA VILLA
Address: Sadama 13, Pärnu
The room price includes bed linen, towels (clean bed linen once a month). Each room has a toilet and shower, television, refrigerator and free Wi-Fi throughout the house. The common kitchen is located on the first floor, where there are dishes, a microwave oven and a kettle.
Entrance to the accommodation with a magnetic key. Free parking in front of the house.
01.09.2023–31.05.2024
Living at the property for 9 months:
€380 in a single room
€440 for two people in a room
Living at the property for 4 or more months:
€400 in a room alone
€480 for two people in a room
Living at the property for 1–2 months:
€500 in a single room
€550 for two people in a room
Utilities included in the price.
Deposit 150 euros. (Can be returned if the room is in order)
If you stay more than 2 month:
€30 cleaning
€10 cleaning products
Additional information and reservations:
info@sadamavilla.ee
www.sadamavilla.ee
---
Image
HOMMIKU HOSTEL-GUESTHOUSE
Address: Hommiku 17, Pärnu
Hommiku Hostel & Guest House are located in the centre of Pärnu, on the corner of Rüütli Street and Hommiku Street. The entrance can be found in Hommiku Street, next to café VoVa. Hommiku Hostel & Guest House are within a walking distance from the bus station, theatre, concert hall, shopping centres Port Artur and Pärnu Keskus, and the beach. The price includes VAT, Wifi, each room has a kitchenette with refrigerator, weekly laundry change, private toilet and shower.
PRICES

Accommodation period 01.09–31.05
Monthly rent for a double room 290 €
Single room rent 20 € per night
Double room rent 30 € per night
Additional information and reservations:
admin@hommikuhostel.ee
www.hommikuhostel.ee
+372 445 1122
Additional information for master students:
Ms Helen Viik
Specialist for Academic Affairs
Tel: +(372) 445 0537
E-mail: helen.viik@ut.ee